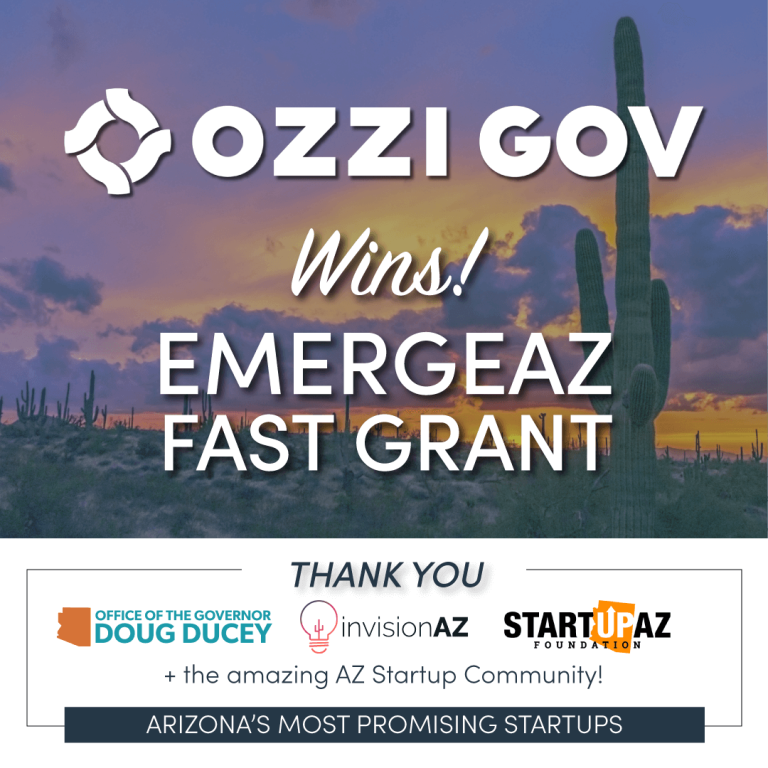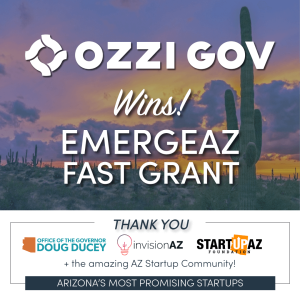 OZZI GOV announced as Awardee for Final Round of EmergeAZ Fast Grant
February 12, 2021
PHOENIX – After evaluating more than 300 companies OZZI GOV OZZI GOV was announced as one of the final awardees of the EmergeAZ Fast Grant by The Startup AZ Foundation. The $1 million EmergeAZ Fast Grant Fund in collaboration with Governor Doug Ducey has provided resources to entrepreneurs and startups with emerging technologies designed to address current economic, health, or societal challenges. In total, 33 Arizona-based entrepreneurs and startups have received grants.
OZZI GOV was recognized for its commitment to helping those who serve the United States emerge stronger from COVID-19. OZZI GOV is a real-time safety companion empowering public servants to react and feel secure – instantly – anywhere in the world.
"Over the past month we have learned about the incredible innovations being developed in Arizona," said Jack Selby, Chairman of invisionAZ. "These entrepreneurs and startups are creating an innovation and tech ecosystem in Arizona that will create more high-quality jobs and opportunity for families."
"We are proud of the confidence the State of Arizona has placed in OZZI GOV, "said Isaiah Lopez, CEO of OZZI. "Arizona has consistently demonstrated its commitment to small businesses and startups and the EmergeAZ Fast Grant is just another indication that Arizona will come back stronger from the COVID-19 pandemic.
ABOUT OZZI GOV AND OZO DEVELOPMENT
OZZI GOV is a first of its kind COVID and threat intelligence tool on the Pentagon's app store. OZZI GOV keeps those who protect our nation safer and more informed. OZZI GOV is exclusively available to credentialed employees and contractors of the U.S. Government – Military, Intelligence, Executive Departments, and their families. Now on the GEOINT App store, users can download here. For more information, please visit OZZIGOV.com and follow OZZI GOV on Twitter @ozzitravels. OZZI GOV was developed by Ozo Development. Ozo Development is based in Arizona and operated by a 3rd Generation Mexican-American immigrant native to Arizona.