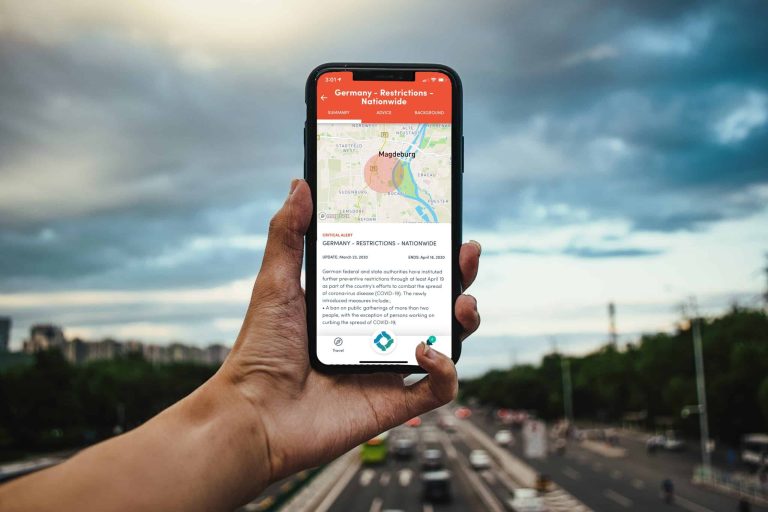 The OZZI GOV App is an Active Local Guide Providing Real-Time Travel Safety Alerts, Emergency Resources & More for Military Members, Intelligence Personnel & Their Families
Street-Level Information on Health Threats & Safety Restrictions, Exclusive COVID-19 Support and Tracking among key features.
April 7, 2020
PHOENIX – Traveling safely has never been more risky.
And with recent world events, it's become increasingly evident to military families, intelligence personnel and others with national security interests that there is tremendous value in knowing what lies ahead.
With the unprecedented COVID-19 pandemic, service members are facing uncharted territory on deployments at home and abroad. Designed to put users at ease, OZZI GOV, a new IOS app offers tons of easily accessible features to help those serving and their families navigate through this time of uncertainty. This includes:
App Features For COVID-19
Closing the misinformation gap – Utilizing military grade software, OZZI GOV provides up-to-minute accurate information vetted by the U.S. Government.
Global transmission rates – Gives users perspective on increases and decreases in COVID-19 cases, number of deaths, and number of recoveries from the disease on a down to zip code level.
Health Advisories / Travel Restrictions / Transportation Disruptions – Users can view publicly issued advisories detailing actions for people to take locally
Available exclusively and free to U.S. Military, Intelligence, Executive Departments and their families, OZZI GOV provides up-to-the-minute news, resources and information they can access at the touch of a button. With app costs fully paid for by the National Geospatial-Intelligence Agency (NGA) and available for use globally, OZZI GOV delivers near real-time updates about everything from gas leaks and suspicious packages, to the latest on COVID-19,and global unrest. It also offers immediate access to lifesaving advice and resources that can prove difficult to find while traveling abroad.
"If you're overseas and an emergency strikes, you may not know where to turn," said OZZI Founder Isaiah Lopez. "OZZI offers immediate access to local alerts and advice, no matter where you are in the world."
In addition to offering emergency assistance and identifying potentially dangerous areas where travelers might encounter riots, heightened local crime, protests or unrest, OZZI GOV serves as an important resource for military spouses, many of whom may go without hearing from their partners for days or even weeks at a time.
"This app is the first of its kind. The government relies on paper and PowerPoints so this is game changing tech for them. Our service members often do not have access to technology resources they need to respond to the threats of a dynamic deployment." Lopez said. "Having 'round-the-clock updates about what's going on in a particular part of the globe can put minds at ease with ease – especially now."
OZZI is great for at-home use too. It can provide a local perspective for those new in town on where to buy a house, go to the store and more! Users can also use the app to track developments in particular cities or nations, and they'll receive prompt, informative alerts and updates that can help them make smart decisions – and avoid unnecessary hardships – while traveling abroad.
"Knowledge is power both at home and abroad, and that's what OZZI delivers–right in your pocket" Lopez said. "It makes you more aware of your surroundings than ever before."
OZZI is currently available for download by U.S. military, intelligence and executive departments and military families now on the GEOINT App store, users can download below.