Get the #1 Global Safety App
The first day of school can be a roller coaster of emotions for parents and children alike. In kindergarten your kids probably didn't want to leave your side, and now that it's time for college they can't wait to go. Every step of the way you've given them opportunities to learn with your loving embrace as a fallback. When they leave the nest, you hope lessons from childhood will keep them from making life altering decisions as adults. While they won't be able to control everything, you've taught them to make better decisions with better information and you should trust their instincts. So, as your child makes their way to a campus near or far, shouldn't they have the tools to make informed decisions without you?
With university populations being larger than some cities, it isn't easy for school administrators to keep all students safe & informed in all places on- and off-campus. In the past, students only had word-of-mouth advice from other young adults who might have an entirely different life experience than your son or daughter. What is intimidating to one student could be a day in the park for another. Objective information about neighborhoods and emerging safety risks helps your child by keeping their instincts informed. That's why OZZI is a must have on your back-to-school essentials list.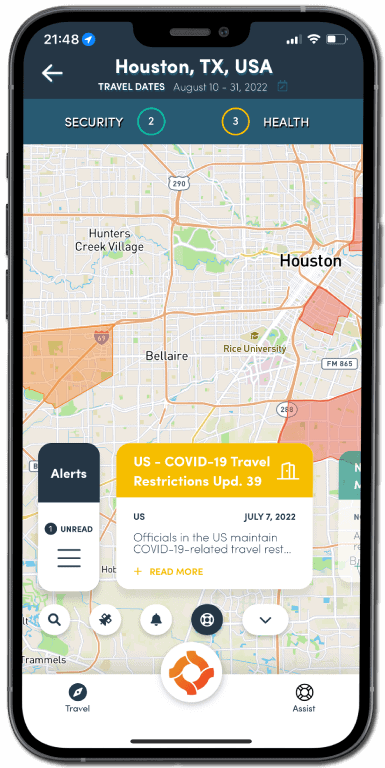 From our time helping families and young adults in the U.S. Government, we've learned a thing or two about how keep people safer around the world. That's why we've developed Safety Map technology inside of OZZI. Available for the first time to the public, OZZI Safety Maps allow your child to prepare for or avoid areas that have heightened risks like kidnapping, assault, and homicide. 
To the left, is an example of the area around Rice University in Houston, TX. When your child uses OZZI, they get a notification when they are entering or near any risky areas, so they don't have to wonder what they're getting into – they'll know in advance how to stay safer.
We never know when and where safety incidents will occur; but, being first to know could help your child make better choices than those in the dark. OZZI connects to and analyzes millions of data points from around the world in real-time to provide your child with timely, relevant, and actionable safety alerts right in their pocket. Every OZZI alert is verified, so your child doesn't have to worry about unverified warnings misinforming their decisions. 
One example of safety issues affecting the U.S. is gun violence. In 2021, there were 693 mass shootings in the United States. To the right is a notification speed comparison of the July 4, 2022 Highland Park Shooting. OZZI published actionable alerts and regular updates on the incident faster than national and international mainstream media outlets – without any bias or spin.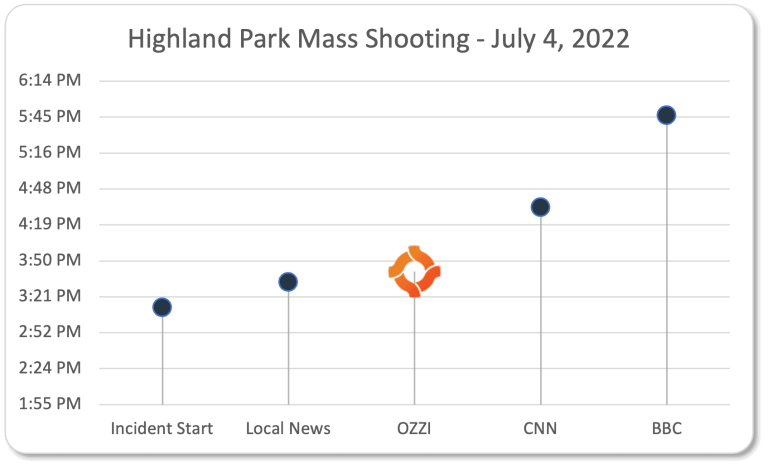 24 hours a day and 7 days a week, OZZI keeps your child informed so they can have a safer college experience. We've built a quiet sentinel to monitor the world, so you don't have to. You've spent almost 2 decades preparing them for the moment they would be on their own. Don't they deserve the best in real-time safety? Add OZZI to your child's back to school essentials list to have less worry and more confidence.