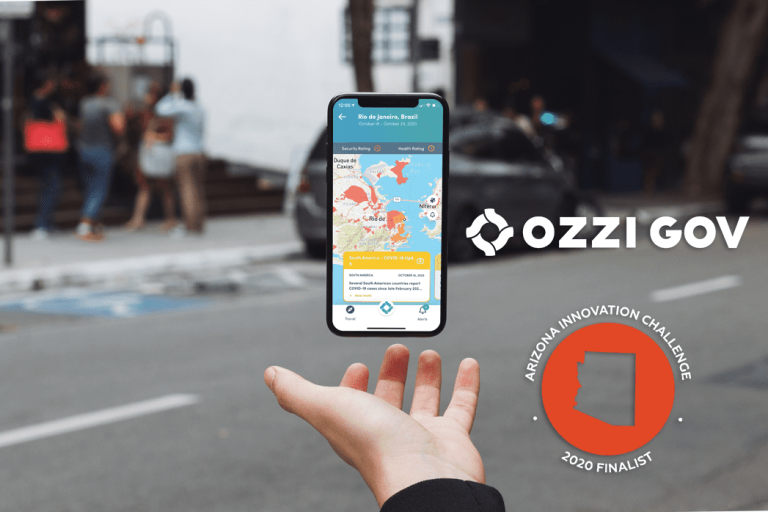 ARIZONA BASED NATIONAL DEFENSE TECHNOLOGY STARTUP ANNOUNCED AS FINALIST IN FALL 2020 ARIZONA INNOVATION CHALLENGE
November 17, 2020
PHOENIX – After evaluating more than 120 companies OZZI GOV was selected as a finalist in the Arizona Commerce Authority's Arizona Innovation Challenge. Only 15 companies earned finalist positions in this nationally recognized competition. The companies will advance to the next round of the business plan competition and up to ten awardees will be added to the Arizona Innovation Challenge portfolio.
"All of the companies participating in the 2020 Arizona Innovation Challenge have displayed remarkable ingenuity, tenacity, and passion about the solution their venture provides," said Sandra Watson, Arizona Commerce Authority President & CEO. "It's been an impressive group to watch, and we congratulate the 15 finalists on advancing to the last round of competition!"
Companies chosen to join the Arizona Innovation Challenge portfolio will participate in the ACA's Venture Ready Accelerator, which connects companies with serial entrepreneurs, high-level executives, and subject matter experts. Venture Ready helps startups refine their business plans, improve go-to-market execution strategies and increase investor readiness. Participants will complete a series of panels and workshops within the subsequent 12 months of the award.
The Arizona Commerce Authority will announce the Fall 2020 Arizona Innovation Challenge portfolio Companies later this year.
OZZI GOV is a mobile app that modernizes the threat intelligence supply chain for the U.S. Government. Built and paid for by the Pentagon's App Store, OZZI GOV keeps those who serve our nation safer and more informed while on deployments, relocating to new areas with family, and while navigating the post-COVID protocols around the world.
"We're honored to be considered amongst the future titans of the Arizona Innovation Challenge and hope to participate in Venture Ready to take our business to the next level and further empower those serving our nation." Says, Isaiah Lopez, CEO and creator of OZZI GOV. "Arizona has built a special atmosphere in which technology innovation can thrive. We are ready to add to that strong legacy as a technology leader in Arizona."
ABOUT THE ARIZONA COMMERCE AUTHORITY
The Arizona Commerce Authority (ACA) is the state's leading economic development organization with a streamlined mission to grow and strengthen Arizona's economy. The ACA uses a three-pronged approach to advance the overall economy: attract, expand, create – attract out-of-state companies to establish operations in Arizona; work with existing companies to expand their business in Arizona and beyond; and help entrepreneurs create new Arizona businesses in targeted industries. For more information, please visit azcommerce.com and follow the ACA on Twitter at @azcommerce.
ABOUT OZZI GOV AND OZO DEVELOPMENT
OZZI GOV is a first of its kind COVID and threat intelligence tool on the Pentagon's app store. OZZI GOV keeps those who protect our nation safer and more informed. OZZI GOV is exclusively available to credentialed employees and contractors of the U.S. Government – Military, Intelligence, Executive Departments, and their families. For more information, visit ozzi.app and follow OZZI on Twitter @ozziapp. OZZI GOV was developed by Ozo Development. Ozo Development is based in Arizona.