Get the #1 Global Safety App
Think about all the things you do to make it to your travel destination. Research, deciding, buying, organizing, packing, and transportation take time and money. Unexpected interruptions or danger from natural or human-made safety incidents can quickly ruin even the best of plans. To minimize disruptions, Travel PROs rely on OZZI's real-time alert platform.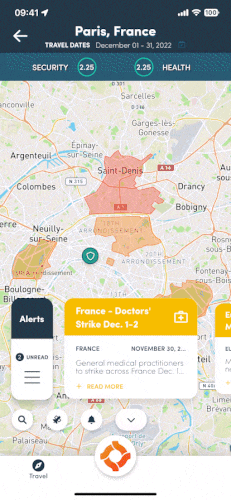 We respect the time you have set aside for your vacation, and we will not bother you with an alert unless it is necessary. Our safety app will only send you a notification to help you travel confidently or to warn you of things that might affect you. OZZI alerts are objective and provide advice to help you make an informed decision. All OZZI alerts are fact based and verified before it is sent to you.
Peace of mind in your Pocket
OZZI is the most comprehensive travel app available without a private security team. Travel like a PRO and download OZZI today.